Wednesday, August 22 2018
Toe-tal Health
An overlooked aspect for our overall structural stability comes primarily from the big toe and secondarily the other toes. The muscle for the big toe, the flexor hallucis longus can be muscle tested for strength, and if weak, it might indicate that there is a problem with either a subluxation of the L5-S1 nerve root in the lower back, a subluxation of one of the bones of the feet or the toes themselves. Weakness in the muscles of the feet can occur for the same reasons it would occur anywhere; lack of use. For those who are sedentary or elderly this is common.
Forty percent of senior citizens 70 years or older will fall at least once each year. With any fall, risk of sprains, strains or fractures are possible, and this can lead to increased frailty and diminished life expectancy. The cost in the U.S. of providing health care to seniors after a fall is roughly 30 billion dollars annually. Surprisingly, the single best predictor of a senior falling is toe strength!
In a study of 300 people by Mickle in 2009, it was discovered that non-falling seniors had 20% more toe strength than seniors who fell while there was equal strength in the quadriceps muscle and ankle strength between the two groups. Unfortunately, toe weakness is common in senior citizens and they generally have declines of 35% or more in toe strength as compared to younger adults.
The Vele Forward Lean Maneuver
This test is to see the connection between toe strength and falling. When standing barefoot simply lean forward as far as possible with your arms at your side while maintaining a straight spine and legs. The degree of forward lean is controlled by pushing down firmly with the toes. The distance you can lean while leaning forward without falling is called the anterior fall envelope. Seniors with a small anterior envelope have the greatest risk of falling. It's when leaning forward to grasp an object or to walk forward, when the two most common times a fall occurs. If you are a senior citizen, know a senior, or feel you have a weakness in this area, simply do the Vele maneuver daily 10-20 times with a hold time of 5 seconds per effort. It is also recommended that you do this in front of a wall so that if needed you can put your hands out in front of you to catch yourself before falling.
Mickel showed that for every 1% increase of strength beneath the big toe, the risk of falling decreased by 7 percent. The big toe can exert a downward force of 52% of body weight, so increasing 1%, shouldn't be difficult to achieve. An increase of 30% force is easily achievable within a few months of regularly performing the Vele maneuver.
Toe Strength Dynamometer Testing
All this percentage analysis can be objectively measured with a Toe Strength

The test is done with a person sitting and a card attached to a measuring device held down by either the middle toes or the big toe. It digitally measures the force of the toes or toe used to hold the card in place before it can no longer do so.
The ToePro
I would like to acknowledge Dr. Thomas Michaud for bringing this important information to my attention and his use of the ToePro exercise program to strengthen the arch, toes and lower leg. The patented shape of the ToePro forces muscles to work in their lengthened positions, which has been proven to increase strength gains by as much as 400% compared to conventional foot/ankle exercises. It can also increase arch height, enhance jump height, and increase gait velocity.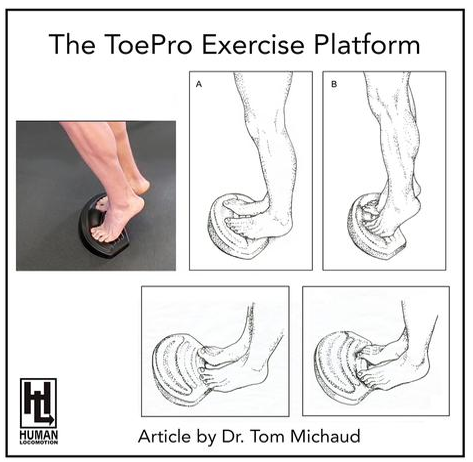 Final Comments
Toe weakness also affects younger people. It is associated with stress fractures, plantar fasciitis, and achilles tendinitis. I have just ordered the Toe Dynamometer and ToePro for the office so anyone who has a foot problem I will be now be able to test for toe strength and recommend exercises with the ToePro. Plantar fasciitis is a very common foot condition that requires a full spectrum of solutions such as stretching and myofascial release to the muscles of the lower leg. The Vele Forward Lean Maneuver and the ToePro are new solutions that I hope will bring greater relief to patients